I'm so pleased to be able to share these fun autumn tree painting ideas for kids with you today, especially as I've also got a free tree template to share with you to make it a bit easier for you and your kids to get creative! We love autumn crafts and these four ideas are really easy for you to try at home with your children – I'm sure you'll think of loads more ways to paint an autumn tree too and it's a great excuse to get the paints out, mixing up those gorgeous autumnal colours and most of all having fun together!
Autumn Tree Painting Ideas for Kids
Autumn is a great time to encourage creativity and the changing colours of the leaves make it perfect for inspiring some painting, especially as you can look at the way the colours mix together.
If you like these ideas make sure that you bookmark this page or pin an image so that you can come back to it – especially if you're on your phone and you want to print off the free template later!
You can view all of the autumn tree painting ideas I'm sharing today in the video below or scroll down if you'd rather read them. Want more ideas for autumn or fall crafts? Check out the links at the end of this post for more inspiration.
For all these crafts you will need paint, a plate to pop your paints on (makes it so much easier than a pot!) and your tree template – download your free tree template here.
Pom Pom Painting
Grab a pom pom and hold it in place with a peg, then dip it into your paint and get printing.
Finger painting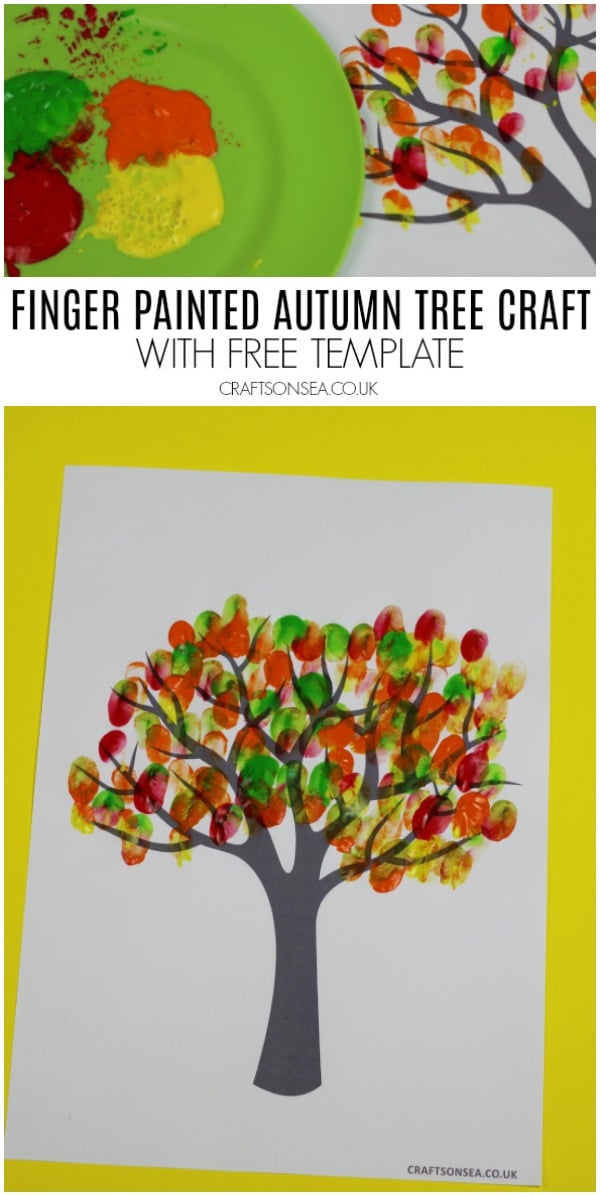 If you don't mind a bit of mess then finger painting is a great way to get creative and to mix the colours up a bit, make sure you keep a cloth nearby to clean up any messy hands afterwards!
Bath sponge
I'm never quite sure what these things are called – bath sponges? Shower puffs? Either way they're a great material to print with.
Duplo Printing
I've shared a lego printed autumn tree craft before but I couldn't resist including the idea again with this and using our tree template.
Print Recipe
Autumn Tree Painting Ideas
Let your kids create some fun autumn tree art using different printing techniques.
Equipment
Tree trunk printable

Children's paint in red, yellow, green and orange

Old plate

Shower sponge

Peg

Duplo

Pom poms

Bath sponge
Instructions
Print the tree trunk printable

Pour the paints onto a reusable plate

Use your child's favourite materials to create autumn coloured leaves on the tree by printing them in the paint.
Autumn Crafts for Kids
Want more autumn crafts for kids? We love this sweet round up of leaf crafts for kids.
Or for the perfect autumn / Halloween crossover check out these fantastic pumpkin crafts.
Or finally this round up of over 45 autumn activities for preschoolers with tons of awesome inspiration!